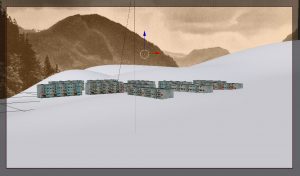 Britta Benno & Heather Beardsley
Oli mul kord … / Once I Had …
15/10/2019 – 13/11/2019
Kraam artist-run space
K-R 16-19, L-P 12-18
W-F 4-7pm, Sat-Sun 12-6pm
15/10/2019
Artist-talk 6 pm
Vernissage 7 pm
/See English below/
Britta Benno & Heather Beardsley
Oli mul kord … / Once I Had …
15/10/2019 – 13/11/2019
Artist-run space Kraam
15/10/2019
Artist-talk 18H
Vernissage 19H
/See English below/
Duonäituse pealkirjastus "Oli mul kord" viitab omamise, mugava ületarbimise ja muude inimese
ennasthävitavate tõekspidamiste kaduvusele tuleviku Maal.
"Oli mul kord…" on Britta Benno mõtteline jätk suvisele isikunäitusele "Düstoopiline Tallinn".
Vabaduse väljaku hoonete asemel on seekord düstoopilise linnamaastiku võttekohaks
projektiruumile Kraam lähedal asuvad Mustamäe paneelmajade rajoon.
Benno kaasas projekti Viinis kunstiresidentuuris kohatud kaasresidendi, Ameerika kunstniku Heather
Beardsley, kes kujutab kummastavalt sarnaseid düstoopilisi linnastseene. Kunstnike ühendab
tehniliselt ka nostalgiliste leidesemete kasutamine, kollaažilik kihiline võttestik, trükigraafilised
ülekandmise meetodid ja ootamatute materjalide kombineerimine. Benno joonistab, trükib või
animeerib düstoopilistele linnavaadetele vee või tule, Beardsley õmbleb või tikib hooned taimestiku
mahulisse rohelusse.
Benno:
"Elu Mustamäel on kestnud tuhandeid aastaid. /…/ Luiteliivast kaevati üles murd dekoorita
keraamikakilde, mis pärinevad arvatavalt ühe ürgse tuleaseme perimeetrilt." 1
Oli mul kord korter Mustamäel. Ürgses inimesejärgses tulevikus meenutab kunagist turvalist
magalarajooni veel vaid üksikud maastikule laiali pillutud paneelmajad. Mustamäe ala on unelmate
mägimaastikuks muundunud. Tulevikuloomad kasutavad varemeklotse varjualusteks.
Ja Maakera põleb. Installatsioonis seguneb tulevikuulme ja tänapäeva olme – mure terve
elukeskkonna praksuvalt kiire kadumise pärast. Amazonase vihmametsad põlevad, Siberi tundrad
põlevad, kliima soojeneb, ookean hapestub, ja ärevaid uudiseid jagub veel. Aga lahtise tule
vaatamine on rahustav. Lõke annab sooja ja valgust. Tulease on turvaline koht keset ohtlikku metsa
nagu korter Mustamäel on pesa, kuhu pugeda peitu hirmsa ilma eest.
Kaminatulele on pühendatud eraldi telekanal.
Kõikepõletav tuli on igavikuline algus ja lõpp.
Joonistusega otse seinale ja animatsiooniinstallatsiooniga katsetan meediumite piirimaid,
konstrueerides neid kihiti üksteise kohale ja peale nagu trükigraafilisi kihte. Orkester objektidest,
helist, seinajoonistusest lameanimatsiooni projektsiooniga esitab järjekordse etüüdi düstoopilisest
linnamaastikust. Sedakorda Tallinn põleb.
Britta Benno on Tallinnas elav ja töötav joonistus- ja graafikakunstnik. Teda huvitavad erinevad
hübriidtehnikad ja materjalid ning nende kõrvutamisel ja kombineerimisel avanevad uued
perspektiivid. 2018. aastast õpib ta Eesti Kunstiakadeemia doktoriõppes kunsti ja disaini erialal,
loomepõhise uurimistöö teemaks "Kaasaegsed eesti naisgraafikud: identiteedid, meediumid ja
omaruumid."www.brittabenno.com
Beardsley:
2017. aasta detsembris külastasin Pripjati, kus nägin, et vaid kolmekümne aasta jooksul, mis on
möödunud inimtegevusest tingitud katastroofist, Tšernobõli plahvatusest, domineerib inimese loodud
struktuurides looduse ülekasv. Nähtust inspireerituna, hakkasin linnafotodele tikkima taimi, mis on
end kehtestanud suveräänina, üle inimeste ja hoonete. Viimase pooleteise aasta jooksul olen
lisanud sellesse sarja pilte igast uuest linnast, kuhu mu kunst on mind viinud: Budapest, Viin, Peking
ja Kiiev. Ehkki tööd on teostatud tavatul viisil, kasutades intiimset ja "naiselikku" käsitöötehnikat,
tikandit, on tööde lähemal uurimisel tajutavad kujutatu sünged tagamaad. Taimed kasvavad näiliselt
kontrollimatult läbi hoonete ja tänavate ning pildilt puuduvad inimesed – või ei ole muutuste
ärahoidmine nende võimuses. Vaatajad saavad imestada muutuste dünaamika üle ja mõistatada,
mis võis asjade sellisele käigule eelneda ja kuidas sellist arengut ära hoida. Kunstniku töö
tulemusena näeme teostes kahest ruumi: inimtsivilisatsiooni dünaamikas on toimunud nihe, ent
loodus on oma koha tagasi võitnud ja sellest on kasvanud uus elu.
Selle näituse ettevalmistamisel lisasin oma sarja Tallinna pilte, samuti olen väljapanekule lisanud
arhitektuuripilte ja linasele kangale tikitud traditsiooniliste eesti tikandite seast leitud taimetikandeid.
Need linad tekitavad koduse olemise, kodutunde, mida suurendab eksponeerimine tugitoolil ja
diivanilaual, luues elutoa meeleolu. Siiski on tekstiilidel kujutatud apokalüptiliste piltide koosmõju
tulemuseks dissonants: me ei näe sündmuskohal inimesi, ometi peaksid nad seal olema, ning
kunstnik jätab lahendamata küsimuse, mis on elanikega juhtunud. Neid tundeid võimendab
väljapaneku asukoht Britta Benno düstoopilise animatsiooni vastaspoolel. See võib koduse stseeni
vaatajale tekitada õdusa ja nostalgilise tunde, ent muutub kurjakuulutavaks niipea, kui vaataja
pöördub vastassuunda ja näeb hoonekompleksi tulekahju. Kas see stseen kujutab kadunud
ühiskonna viimast äratuntavat jälge, mis on hävingupõrgu viimases tules lõplikult kustumas?
Heather Beardsley on Ameerika kujutav kunstnik. Aastatel 2016-2017 pälvis ta Saksamaa Alam-
Saksi teadus- ja kultuuriministeeriumi rahvusvahelise kunstniku stipendiumi. Ta lõpetas Chicago
Kunstiinstituudi vabade kunstide magistriprogrammi tekstiili- ja materjaliteaduse alal 2015. aastal.
Tema töid on eksponeeritud kõikjal Ameerika Ühendriikides, aga ka Euroopas: Suurbritannias,
Austrias, Saksamaal ja Slovakkias. www.heatherbeardsley.com
Näitust ja Kraam artist-run space tegevust toetab Eesti Kultuurkapital.
Rohkem infot:
e-mail: kraamspace@gmail.com
https://www.instagram.com/kraamstuff/
http://kraamstuff.tumblr.com/
https://www.facebook.com/thekraam/
1 Mustamäe hääl, Lauri Raus. Sirp, 06.07.2018. https://www.sirp.ee/s1-artiklid/film/mustamae-haal/
—
The exhibition's title, Once I Had…, refers to the transience of possession, convenience of over-
consumption and other self-destructive implications of human behavior on the future of Earth.
Once I Had.. is a conceptual continuation of Britta Benno recent solo exhibition "Dystopic Tallinn". In
this project the apocalyptic landscape scenery is site-specifically depicted with the Mustamäe
district's panel houses, as they are located in the vicinity of the artist run-space Kraam.
Benno invited American artist Heather Beardsley to this project, as they met while during an artist
residency in Vienna, where they were coincidentally both depicting dystopian landscapes. The works
relate not only through imagery, but also materially and technically. There are many common links
between the two artists: Benno and Beardsley both use nostalgic found objects, collage-like
layering, printmaking and transfer methods, and inconvenient materials combinations. Benno draws,
prints or animates water or fire on her dystopian landscapes, Beardsley sews or embroiders
volumetric flora on top of photographic cityscapes.
Benno:
"Life in Mustamäe has been lasting for thousands of years. /…/ It has been digged up pieces of
undecored cheramics from the dune sand, that has came probably from aboriginal campfire site." 2
Once I had a flat in Mustamäe. In the far distant posthuman future the only reminder of this once
safe urban district are sparsely scattered panel houses. The Mustamäe territory has transformed
into a dreamy mountainous landscape. Future creatures use the blockhouses as shelters.
And the Earth is on fire. My installation is a mix of the future fiction and present living – worrying of
the crackling disappearance of healthy living environment. The Amazon rainforest is burning,
Siberia is burning, the climate is warming, the ocean is acidifying, the news is becoming ever more
alarming.
But watching an open fire is calming. Campfire gives warmth and light. A fireplace is a safe place in
the middle of a dangerous forest as the flat in Mustamäe is a nest to hide in the middle of horrible
world.
There is even a special TV-channel dedicated to a fireplace.
All-burning fire is eternal, beginning and end.
With an installation combining drawing straight on a wall and an animation I experiment the
peripheries of visual art mediums, constructing layers over and above each other as printmaking
layers. Orchestra of objects, sound, wall-drawing and flat-animation projection performs another
etude of apocalyptic urban landscape. This time Tallinn burns.
Britta Benno is a drawing and printmaking artist living and working in Tallinn. She is interested in
various techniques and materials and the new perspectives that appear when they are contrasted
and combined. Currently, she is studying for a doctorate at the Estonian Academy of Arts, her PhD-
in-Practice research is about Estonian contemporary women printmakers: spaces, mediums,
identities. www.brittabenno.com
Beardsley:
In December 2017 I visited Pripyat, witnessing how over the past thirty years since the man-made
disaster, the Chernobyl meltdown, nature has grown up to dominate the man-made structures. I
began to embroider photographs of the city with plants overtaking the people and buildings. Over
the past year and a half, I have added images to this series with each new city my art has taken me
to, including Budapest, Vienna, Beijing and Kyiv. Although presented in a whimsical fashion, using
an intimate scale and a "feminine" craft technique like embroidery, on closer examination the
implications of these pieces become more sinister. As plants seemingly grow uncontrollably through
the buildings and streets, people are either absent or oblivious to the situation. Viewers are left to
wonder about this change in dynamic, what preceded it, and what will prevent it. The resulting
works exist in an ambiguous space: a shift in the dynamic has clearly occurred, but nature has
fought back and new life has grown from it.
For the work in this exhibition, I have added images of Tallinn to this series, but also expanded it by
adding architectural imagery and plant embroideries into found embroidery on traditional Estonian
linens. These linens evoke domesticity and the feeling of home, heightened by their installation in
relation to an armchair and coffee tables, re-creating a living room tableau. Yet the apocalyptic
imagery depicted on the textiles creates a dissonance which, combined with the absence of actual
people in the scene, that raises unsettling questions about what happened to the former residents.
The installation's placement opposite the dystopian animation by Britta Benno heightens these
feelings, the burning sounds coming from the speakers that could create a feeling of comfort and
nostalgia while looking at the domestic scene, become more ominous as one turns around to see
housing complexes on fire. Does this scene represent the last vestiges of a lost society about to be
permanently erased by the inferno outside?
Heather Beardsley is an American visual artist. In 2016-2017 she was awarded an International
Artist Scholarship by the Ministry of Science and Culture of Lower Saxony, Germany. She received
her MFA from the School of the Art Institute of Chicago in Fibers and Material Studies in 2015. She
has exhibited work throughout the United States and Europe, as well as the UK, Austria, Germany,
and Slovakia. www.heatherbeardsley.com
The exhibition and Kraam artis-run space is supported by the Cultural Endowment of Estonia.
Additional info:
e-mail: kraamspace@gmail.com
https://www.instagram.com/kraamstuff/
http://kraamstuff.tumblr.com/
https://www.facebook.com/thekraam/
2 Mustamäe hääl, Lauri Raus. Sirp, 06.07.2018, https://www.sirp.ee/s1-artiklid/film/mustamae-haal/
**Image: Britta Benno "Düstoopiline Mustamägi", 3D sketch