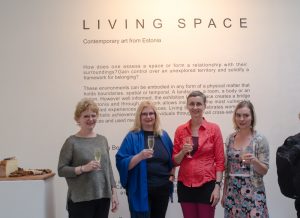 http://www.ruum.org/ <— all and more about the project!
Intense and inspirational time at the other side of the Earth was succesful in many ways. My etchings cought a lot of great feedback.
Sharing living space (and "Living.Space") three weeks with admirable artists Mall Nukke, Maria-Kristina Ulas and Ulvi Haagensen, hosted by the organisors and curators, dearest Bernadette Pilli and Katrin Repnau was very special experience.
Exhibition Living Space is first of its kind to bring a selection of contemporary Estonian art practices to Australian audiences
The concept of being is seen as the experiences of physical or psychological places we either inhabit or visit. These states of experiences or spaces we transit through also carry geopolitical, historical, social, economic, material, physical or religious implications. Often in these states of habitation we rely on the automatic performances of our invisible and private rituals to aid in the process of repositioning and adaptating. The connections between the spaces and states of being do not go unnoticed by the artists and emerge through their practice into a fascinating display of observations. Living Space includes works from variety of art practices and different generations, making it diverse in used media and practices.
Through contemporary Estonian art and women artists, the exposition celebrates the contemporary Estonian and their living space. What does home/homeland mean or what role does it play in contemporary Estonian society? What are the roles or rituals we subconsciously perform or inhabit, through which we give meaning to our living space?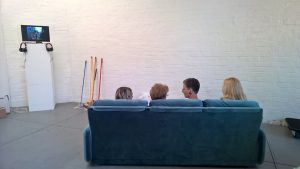 I had also a lecture there:
Britta Benno lecture "Contemporary Estonian Printmaking Practices"
A lecture introducing contemporary Estonian printmaking practices. Starting with introducing the history and condition of Estonian printmaking and focusing on women artists in Soviet Estonia (golden age of Estonian printmaking). The lecture describes the influence changes in society had on art practices, introduces art from Estonian independence until modern day and illustrates different approaches in printmaking artworks.
The main focus of the lecture is on contemporary women printmakers in Estonia. What are the practices that are vibrant now, which 8-10 women artists has Britta chosen to represent and reflect contemporary Estonian printmaking? The lecture approach is based on research and conversations with artists, analysing their portfolios and art practices.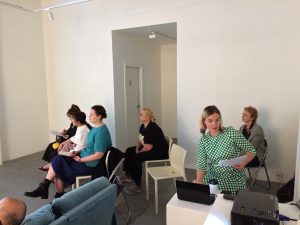 Besides our exhibition.. Man, I was everywhere – felt in love with Melbourne, visited (art) museums and contemporary exhibitions, walked many miles, discovered green parks, centre bubbling life and suburban fauna..
Can´t thank enough the supporters (Kultuurkapital) and the organisers !